Resource Hero
Your community rules and reputation management guide
Your community rules and reputation management guide
Your reputation: It only takes a couple of comments to put a dent in it
Comment sections and online review platforms are complex places — it's where your customers can go to ask questions, sing your praises, or air their grievances. And knowing how to respond — or if you should respond at all — might not be as intuitive as you think. In reality, it's all a delicate dance.
Let's acknowledge that managing community relations — particularly those built and maintained online — isn't a task for the faint of heart. After a while, addressing angry comments and negative reviews become taxing, especially when your brand is dealing with a PR crisis. So once you've finished reading, go find your social media team and give them a heartfelt "thank you." (Maybe pair it with a bottle of champagne if you're feeling generous.) Because even though it's not the easiest job out there, properly managing your customers' comments and concerns will bring significant benefits to your brand almost immediately.
Let's bring in an expert
Reputation management is an incredibly important facet of a brand's digital presence that is often overlooked. Taking a few minutes each day to interact with your followers can ensure their questions are answered and that they're happy with the experiences they have with your brand. We recruited Jackson Gillard, a social media specialist and renowned reputation management expert within DECODE walls, to break down what makes it so valuable. He summed it up with this:
"Reputation management is an avenue for you to foster a connection with your audience and curate a community that feels empowered to interact with you and your content. If a social media user sees a business interacting with followers, it's inspiring to know that whenever you have an experience with a business, good or bad, you can discuss that with a real person representing that company who can point you in the right direction, regardless of the situation."
How do you keep your reputation in mint condition?
We knew that after spending countless hours — and we do mean countless — dedicated to helping our clients build a community with their followers, Jackson would have plenty of insights to share. So we asked, and he delivered.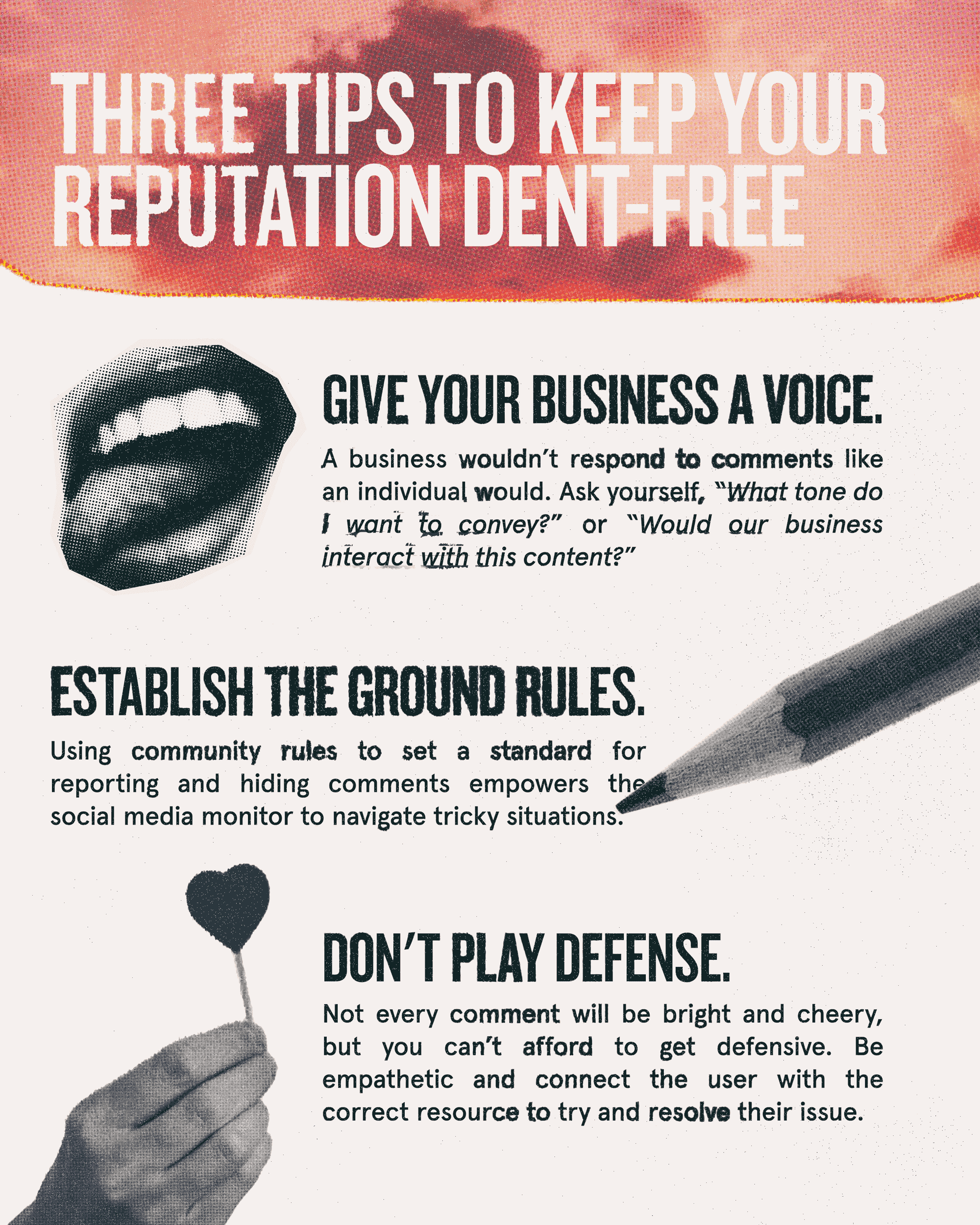 Want help tackling those comments and reviews? That's what we're here for. Let's talk about it.
Subscribe to DECODE Health Hub