Resource Hero
3 ways to shake up your healthcare marketing plan
3 ways to shake up your healthcare marketing plan
It's that time of year again — fiscal year planning. Whether you've just finished planning for your healthcare organization's upcoming marketing plan or you're still unraveling the details, we understand all the hard work that goes into this. At DECODE, we've had the fortune of working with some incredible healthcare and wellness organizations as they tackle yearly planning, and we've picked up a few tips and tricks along the way. Here are three things we keep in mind to develop well-rounded, effective marketing plans.
1. Ask for input from operational leaders
Marketing affects everything, and people from every department of an organization — not just the marketing team— are invested in it. Your hospital and department leaders know what's happening within their teams and where patient volumes could use a boost. Getting these influential people involved in the year's marketing plan from the very beginning will be a key factor in maximizing efficiency. 
An easy way to begin this conversation is by posing a few questions in either an online survey or in-person working session, such as:
What are your top three priorities for this coming fiscal year?

Is there any major news or updates at your facilities that we should anticipate for this year? This may include openings of any new locations, major physicians joining the team, or new technologies being introduced to your service offering. 

As we develop the annual marketing strategy, is there any other information our marketing and communications teams need to know about?
Consult with different departments to learn their priorities and get their input on marketing efforts. This strategy is all about reducing friction among team members and using one of your greatest tools: collaboration. Once you have a clear understanding of the big picture, you can start to narrow all of this information down and grab the tangibles with data. 
2. Leverage data to make tactical decisions
Data is one of our biggest tools for cutting through the clutter to help shape your marketing strategy. When it comes to developing your annual strategy, it is especially important to allocate your budget based on the numbers and key findings you have available. There are two primary data sets we recommend you start with:
Campaign Performance Reports. Look back on the last fiscal year and determine which channels performed the best for each of the key service lines. What are some of the key learnings that you can take forward to the next fiscal year?

Operational Data. Ask your strategy or operations team what their volume targets are by service line and location. Use these numbers to work backward by leveraging your cost per action (CPA) on these service lines from the previous year to identify how much budget is needed.
As a marketing leader, you're often told to do more with less — and data is the key to making the most of what you've got. Using these insights maximizes efficiency and gets results. With input from other key players and fine tuning all the information with data, you can now organize all members of your team to move forward focused on collaboration with defined responsibilities.
3. Get everyone on the same page by defining clear KPIs and roles
How do you measure success? Defining your key performance indicators (KPIs) allows you and your team to really prioritize the initiatives that will deliver the most valuable results. When developing these metrics, it can be valuable to consider the stops along the way. Set a cadence for check-ins and reporting to help measure your and any of your partners' progress.
Imagine a world where everyone on your team, your partners, and your vendors all work harmoniously and understand what they're supposed to do. Don't blink, because this world can actually exist! We've seen great success when using clear and open communication to define each person or team's role and provide action items for each initiative. One of the ways we've had success working with our healthcare partners and their teams is by setting up a RACI matrix.
What is the RACI matrix? This graph is an organizational tool that maps out who is responsible for what — who plays what part? This chart  shows which party is RESPONSIBLE for each action item, who is ACCOUNTABLE, and who needs to be CONSULTED or INFORMED. Take a look at our RACI guide to have a better understanding of how it all works.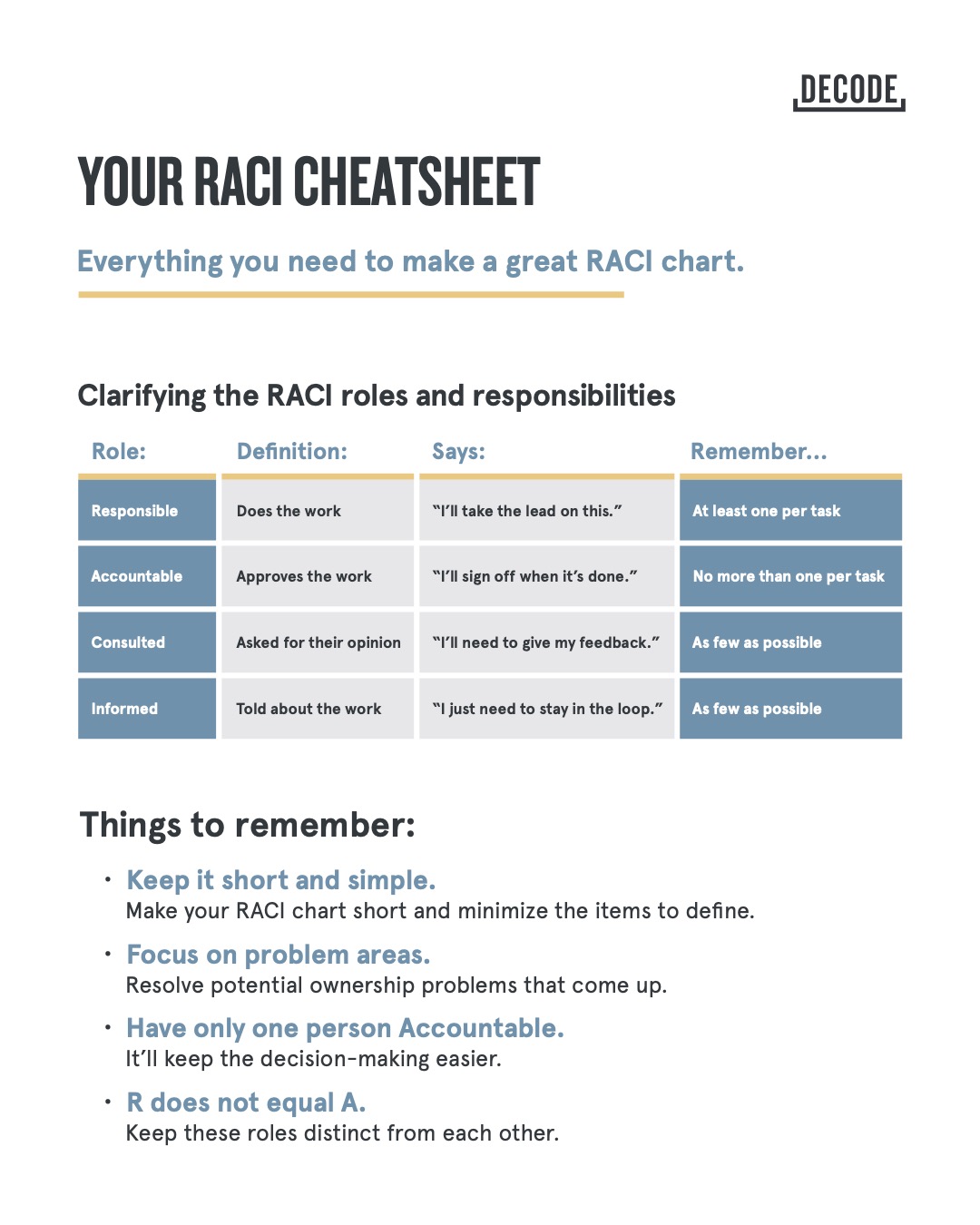 Fiscal year marketing and advertising plans provide a much-needed North Star for your organization and partners to rally behind. These tips are just a few ways we've found to build an annual plan that you can feel confident in. Flexibility and collaboration are key — our view is that talent can produce something good, but collaboration is what produces something great. 
What do you prioritize when fiscal planning? What tools help clarify your needs and how the process flows? By working together, we can ensure a process focused on growth and create fiscal year planning that sets the stage for efficient, effective marketing strategies.
Subscribe to DECODE Health Hub